Article
Events & Campaigns
Industry News & Trends
Partner Updates
Real Crimes. Real Children.
We cannot tolerate the sexual exploitation and abuse of children being produced, distributed and consumed. This is more than a digital crime, it is an unspeakable crime and physical act that happens to real children.
Cases of child sexual abuse material (CSAM) are often treated less seriously than cases of child sexual abuse, even though CSAM is the recorded evidence of that crime. CSAM perpetuates re-victimisation through the ongoing trauma caused by its distribution. By removing CSAM rapidly from the internet we enable a cleaner internet and therefore safer digital environment for everyone: a safer place for children, and digital citizens - which includes us, you, our families, and our colleagues.
Should your organisation become a partner? Read our whitepaper.

It takes a network to fight a network.
The creation and distribution of CSAM online is a borderless crime often facilitated by networks of perpetrators, which can only be tackled by a global operation. INHOPE is the global network of more than 50 internet hotlines operating in over 45 countries. Our member hotlines play a crucial role by providing a local presence and reporting channel to members of the public in their country. We know that the only way to eradicate CSAM is to generate social awareness through education, strengthen legislation and law enforcement response and setup a national hotline to lead the fight and build key stakeholder relationships.

How funding translates into action.
INHOPE's funding partners support the growth of all aspects of the INHOPE network. Bad actors will continue to operate online and we have the experience and knowledge to fight back, but we would not be able to continue this mission without our Partners. The partnerships we have built over the past 15 years, their support has enabled the strategic expansion in high-risk countries and contributed to the training and technical support of more than 200 analysts worldwide.

Determine if your organisation should become a funding partner.
Does your organisation align with INHOPE 's vision of a world free of Child Sexual Abuse Material online?
If yes, then consider becoming an INHOPE partner and convert this vision to real action: visible to the outside world. We will make sure that everyone not only has the right but also the ability to report CSAM.

Does your organisation have a Trusted Flagger Programme or are you currently exploring the development of one?
If yes, then consider becoming an INHOPE partner. We integrate INHOPE members into your Trusted Flagger Programme to ensure a safe and secure user experience and offer you support to properly enrol this programme.

Does your organisation have a dedicated Trust and Safety team to ensure CSAM is not on your platforms?
If yes, then consider becoming an INHOPE partner. Let's disrupt bad actors with technology. As an INHOPE partner, you will gain access to our analyst support network to make sure your Trust and Safety team receives the care they need to perform their important tasks.

Is your organisation proactively looking for a way to participate in the removal of CSAM online?
If yes, then consider becoming an INHOPE partner. INHOPE member hotlines rapidly remove CSAM online. We provide our partners with tools they can utilise in the fight against CSAM. By working collectively, we can be part of the united response. With continued training, webinars, and events, we can align technical standards, legislation, and other anti-CSAM measures that will make a difference.

By becoming a funding partner you actively contribute to:
Establishing new hotlines, specifically in high-risk countries for the hosting and/or production of CSAM.
Creating awareness in regions that do not know or believe CSAM exists.
Supporting regional and global advocacy for necessary legislative change.
Providing mental health support and well-being to over 240 content analysts.
Developing INHOPE's internal technology platform ICCAM used for the secure exchange, collection and classification and removal of CSAM reports.

Find out more about becoming a funding partner, speak directly to our Head of Network Expansion, Samantha Woolfe and share our whitepaper with your team.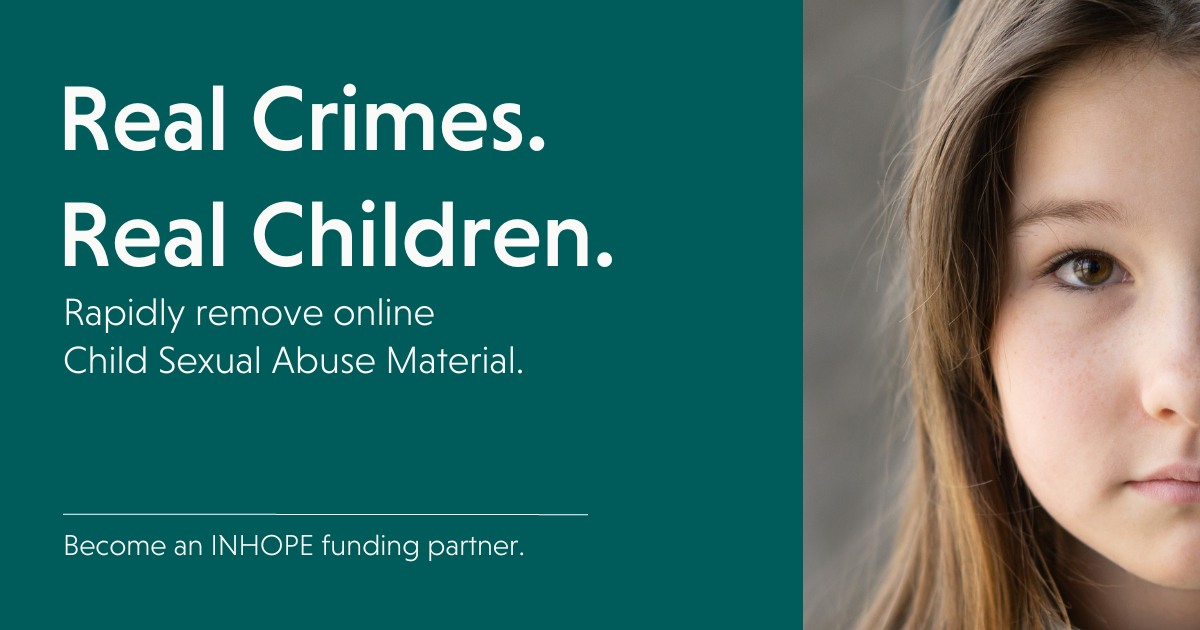 01.11.2023
Photo by INHOPE
'

Should your organisation become a funding partner? Start the discussion with our Head of Network Expansion, Samantha Woolfe: samantha.woolfe@inhope.org

'