Article
Projects
Educational Articles
Hotline & Network Updates
European Commission Funded Initiative
History
The European Commission has been addressing the evolving needs of internet safety through a succession of Safer Internet funding programmes running from 1999 to 2013. From 2014 these activities have been co-financed by the Connecting Europe Facility programme 2014-2020 and are based on the European Strategy for a Better Internet for Children (BIK Strategy). This European Union policy framework aims at providing a better integrated more effective support for children when they go online. Pillar Four of the strategy focuses specifically on the fight against child sexual abuse and child sexual exploitation. The European Commission works closely with Member States in their implementation of the strategy and actively contributes to the development of a legal framework fit for the digital age.
As part of the Connecting Europe Facility programme, the European Commission is also co-funding a European network of Safer Internet Centres and the coordination of the Better Internet for Kids portal, a single entry point for resources and sharing best practices across Europe. The network is coordinated by Insafe and INHOPE.
Insafe focuses on promoting positive online experiences for young children, digital literacy and online safety in all EU schools, and creating a safe environment for children through age-appropriate content. Insafe does this by coordinating a network of awareness raising centres and helplines. As the other strand, INHOPE focuses on the removal of illegal content, specifically child sexual abuse material (CSAM) online, and coordinates a network of reporting hotlines. A key element of the programme is the participation of youth allowing young people to exchange knowledge and experience about their use of online technologies.
The INHOPE Association was founded in 1999 with eight founding hotline members.
21 years on, and thanks to the continued support of the European Commission, there are now INHOPE hotlines across the globe and on all continents.
This funding also enabled the development of INHOPE's ICCAM technology platform, a home-grown software solution to removing online CSAM. Developed by ZiuZ Forensics, it enables multi-stakeholder collaboration between hotlines, Law Enforcement Agencies (particularly INTERPOL) and the industry. Sharing reports of CSAM via this platform enables content to be taken down faster and for more children to be saved.
Current Projects and Events
Every year INHOPE holds an event for Safer Internet Day, a successful European Commission initiative which has gained worldwide attention and support. In 2020 on this day, INHOPE held a specialist Focus Group focusing on the development and implementation of artificial intelligence (AI) and machine learning to detect and remove child sexual abuse material from the internet. Participants included technical experts, law enforcement, the technology industry, EC representatives, hotlines, academics and policymakers. 
INHOPE is also currently working in collaboration with visual intelligence company ZiuZ on the project AviaTor, funded by the European Union's Internal Security Fund. This Augmented Visual Intelligence and Targeted Online Research aims at developing automation and intelligence tools to greatly reduce the time spent by LEAs in processing, assessing and prioritising these reports. These tools combine artificial intelligence techniques, used to investigate the content, with the capability to carry out targeted online research for open source intelligence.

INHOPE's Voice on Important Issues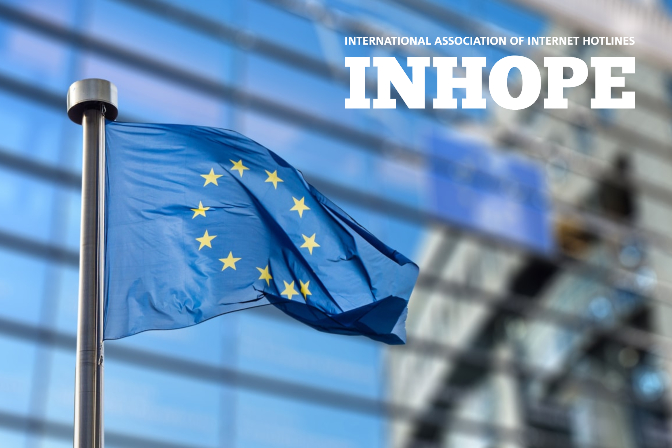 09.07.2020
- by INHOPE
Photo by INHOPE
'

21 years on, and thanks to the continued support of the European Commission, there are now INHOPE hotlines across the globe and on all continents.

'