Article
Educational Articles
The stages of grooming
Grooming, different than most other forms of child sexual abuse (CSA) is often a gradual process, which makes it difficult to identify. Children are introduced to the internet and social media at an increasingly young age which creates new challenges for children's online security. Perpetrators are becoming better and better at targeting and soliciting children online by exchanging information about their approaches with each other. Consequently, it is crucial that all of us, but especially parental groups, caretakers and educators are made aware of the most common online grooming techniques to be able to spot the signs as early as possible.


1. Targeting
The offenders target children by creating false profiles on the internet, often by pretending to be a child within the same age group and initiating contact online. Oftentimes, perpetrators will target children within their close friend - or family circle.


2. Gaining access
The perpetrator establishes trust with the child by making them feel special, sometimes through gifts or excessive compliments and attention. This is especially dangerous for vulnerable children who do not experience attention in their daily lives.


3. Trust Development
The perpetrator becomes a consistent presence in the child's life and establishes the appearance of a friendly or even romantic relationship. Children are mostly oblivious to the dangerous nature of these relationships as the perpetrators actively work to blur the lines between normal and abnormal relationships.


4. Desensitisation to sexual content and touch
When a certain level of trust is established the groomer starts to desensitise the child to touch and sexual content e.g. by creating physical proximity or exposing the child to sexual content, in order to facilitate an environment for Child Sexual Abuse (CSA) and Child Sexual Exploitation.


5. Maintaining Control
Offenders often use secrecy and feelings of shame to maintain control over the child. In some cases, perpetrators might utilize self-generated intimate content to extort children into prolonging the abusive relationship.


Even though grooming is case-specific and looks different for every victim, we strongly advise educators, helpline workers, hotline agents, and parental groups to be aware of the most common stages of the grooming process to be able to detect abusive activity as early as possible.
If you want to learn more about the negative impact that grooming can have on a child and educate yourself on the topic of grooming you can do that here.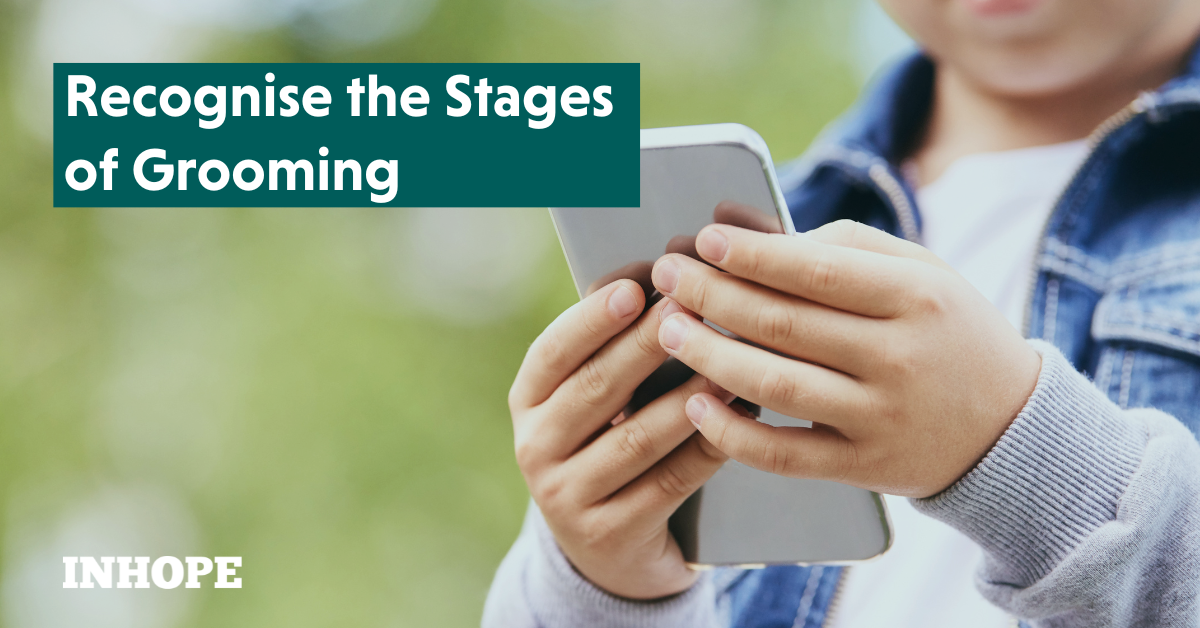 '

Children are mostly oblivious to the dangerous nature of these relationships as the perpetrators actively work to blur the lines between normal and abnormal relationships.

'