Article
Educational Articles
Industry News & Trends
The European Union CSAM Regulation
The European Union's strategy 2020-2025 outlines a holistic approach to address the increasing risks of child sexual abuse both offline and online. In light of this strategy, the European Commission proposed in May 2022 a draft Regulation laying down rules to prevent and combat child sexual abuse (CSAM Regulation).


What is the CSAM Regulation?
The main goal of CSAM Regulation is to create a horizontal and permanent framework to fight against CSAM online, as at present the detection of CSAM is based on a 2021 temporary derogation of the ePrivacy Directive, which will expire in August 2024.
The CSAM Regulation includes a significant number of elements such as the creation of an EU Centre to coordinate the fight against CSAM in Europe, the obligation for providers of hosting services and inter-personal communications services to carry out risk assessments and subsequently take mitigation measures to tackle the potential use of their services for the exchange of CSAM, as well as the creation of various orders that judicial authorities could issue to providers to fight against CSAM, such as detection, removal, blocking and delisting orders.


What is the status of the EU proposal?
As it stands, the European Parliament and Council (the 'co-legislators') are both on the verge of finalising their respective positions on the proposal. Once this happens, both will enter into inter-institutional negotiations (so-called 'trilogies') to find a common position, which will then become a Regulation directly applicable throughout the European Union.


INHOPE efforts with the EU Regulation
Our INHOPE team has been monitoring policy evolutions and advocating for greater collective EU action to tackle CSAM online for a long time. We are focused on ensuring that the draft Regulation takes into consideration the responsibilities and abilities of hotlines. Following the release of the Commission's proposal, INHOPE shared its feedback to the Commission, welcoming the proposal and its objectives and sharing five key recommendations which would strengthen the Regulation and help it reach its full potential:
Include an official recognition of anonymous public reporting as a crucial element for detecting 'new or previously unidentified CSAM'
Develop a framework to facilitate the legal recognition of European Union hotlines so they can review, process, and potentially conduct proactive searching for CSAM.
Use the existing and proven systems to avoid duplication and improve efficiency.
Broaden the eligibility criteria to become national competent authorities (NCAs) to allow already existing expert organisations to be designated as NCAs.
Develop a detailed framework governing EU Centre partnerships with external organisations.
What's Next?
Compromises have been put forward with changes that will impact child protection online around voluntary detection of child sexual abuse, detection of grooming, bad actor behavioural patterns as well as end-to-end encryption, which will now be excluded from the proposal.


What does this mean for online safety? Right now, the INHOPE network continues to engage with EU Member State representatives and the European Union co-legislators to actively promote the hotline's position in the draft CSAM Regulation ahead of the inter-institutional negotiations scheduled for early 2024.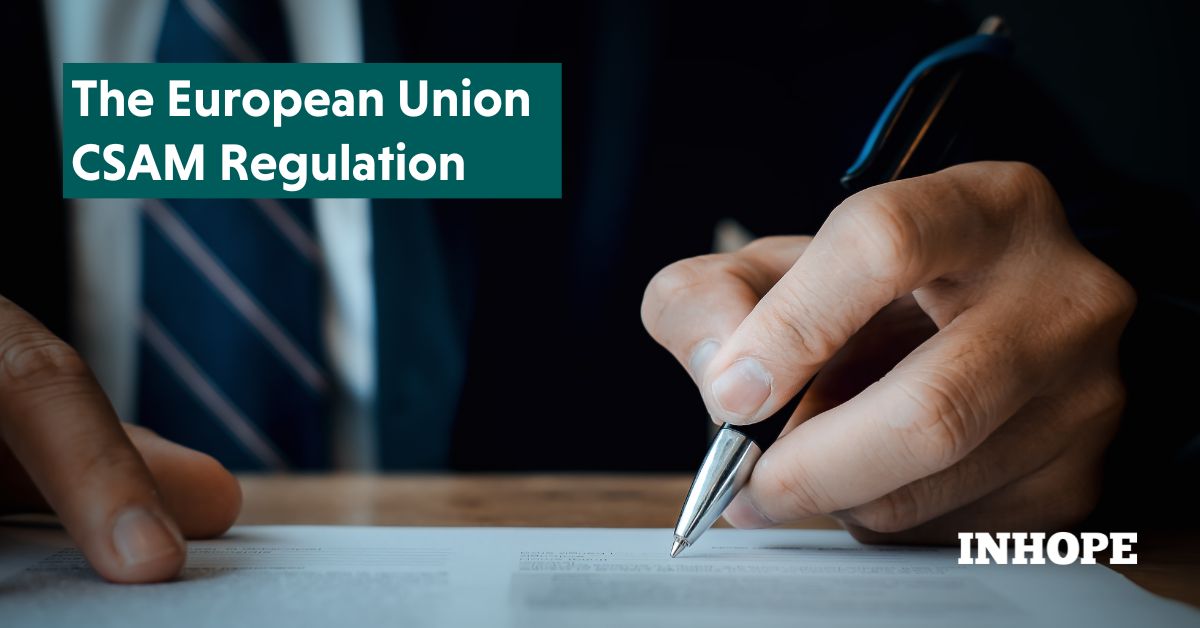 '

We are focused on ensuring that the draft Regulation takes into consideration the responsibilities and abilities of hotlines.

'