Article
Events & Campaigns
Industry News & Trends
Promoting Positive Platforms at the INHOPE Summit 2023
On September 19 and 20, INHOPE held its sixth annual INHOPE Summit, hosted by Meta in the wider Boston area.


The goal of this year's Summit was to explore ways to facilitate improved collaboration between product and policy teams to create platforms that are safe by design. User safety is not just a feature - It's a core element of product development, critical to creating a safe online environment, especially for young people. We gathered key players from Meta, the Tech Coalition, Yubo, the National Center for Missing and Exploited Children (NCMEC), Discord, Microsoft, Nurdle, NAVER-Z (ZEPETO), Crisp, and TikTok to address a critical question: How can we facilitate positive online experiences through safety by design?
Welcome & Opening
Jason Barry, representing our host Meta, opened the Summit expressing their pleasure in hosting this event after a long-standing partnership with INHOPE. He acknowledged the diversity of participants and praised our interconnected ecosystem – "A small network in a big world combatting a global problem." – Jason Barry, Trust and Safety Manager at Meta
INHOPE President Jean-Christophe (JC) Le Toquin offered a brief overview of the structure and work of the INHOPE network and its 52 member hotlines. The threat of child sexual abuse material (CSAM) keeps evolving, and there is no single solution to this problem - We need a joint commitment to tackle this issue through conversations, education, prevention and rapid action.


Keynote Address
Antigone Davis, Vice-President and Global Head of Safety at Meta, elaborated on this point in her keynote address. Underlining the complexity of online platforms, and the urgency of effective harm prevention, she stressed the demand for a robust, collective response to online abuse.
The nature of the current online landscape is two-fold: it creates numerous opportunities but also acts as a space for bad actors to engage in harmful behaviour. This can only be addressed through enhanced industry collaboration and the collaborative work of child protection NGOs.
Effective harm prevention should be based on strong default protections for young people, alongside technological solutions like AI and machine learning to identify malicious activity.
Robust and supportive responses to abuse must be based on people-centred approaches. We must prevent negative experiences for children when it comes to reporting abuse on online platforms, and make these processes easy and approachable.
Product/Policy Collaboration in Practice
In an interview led by Sean Litton, Executive Director of the Tech Coalition, Annie Mullins, Yubo's independent safety advisor, demonstrated how successful product/policy collaboration can look in practice.
The baseline for successful cross-departmental collaboration must be set by the leadership team.
Open and honest communication across departments must be encouraged through a top-down approach.
Safety is not a one-fit-all solution and continuous innovation is key to keep up with bad actor behaviour.


The summit moved on with an engaging panel discussion moderated by Lauren Coffren, Executive Director at the National Center for Missing & Exploited Children (NCMEC). Savannah Badalich, Senior Director of Policy at Discord; Ravi Sinha, Head of Child Safety Policy at Meta and Delight Roberts, Attorney in the Digital Safety Office at Microsoft examined effective cross-department collaboration, and outlined best practices for product and policy teams.
Policy involvement within the first stages of product development is critical.
Cross-functional safety groups can help in keeping risk mitigation responses effective and specialised.
Establishing a baseline of required risk mitigation features for product teams helps to keep departments aligned.
Collaborating with external stakeholders can be useful in staying on top of security threats and identifying trends early.


In the following presentation Jun Young, Vice President of Global Affairs at Naver Z (ZEPETO), addressed the need to consider safety, legal, and compliance requirements in product development. Using real-life examples from ZEPETO's open-chat feature Jun comprehensively outlined the risks of launching a product without certain safety considerations, and shared how ZEPETO successfully reframed their approach to safety by design.
When safety is seen as an add-on and only addressed retroactively, platforms are not only comprising user safety but putting their brand reputation at risk.
Establishing basic safety policy training for employees ensures that all departments are properly equipped.
Integrating regular trust and safety, customer experience, and legal reviews within each stage of the product development ensures that all bases are covered before a product launches.


Technology Solutions for Safety
What are some of the technological solutions available that can help us create a safer experience for users? Jonathan Purnell, Vice President of Data Science at Nurdle, outlined the benefits of studying the user lifecycle and learning how to spot harmful interactions through contextual AI.
Trust and Safety should be an integral part of a company's identity. Proactive implementation will save significant resources compared to reactive approaches.
Platforms can have neutral, positive and bad actors, which can be identified through metadata like chat histories, user age, user behaviour etc.
To optimise user engagement and retention platforms can incentivise positive interactions by matching new users with good actors.


The last session, an open floor Q&A featured Debbie Garner, Technology Advocate; David Hunter, Vice President of Product – Platform Trust and Safety at Crisp and Ebony Tucker, Global Lead for Exploitation and Abuse at TikTok and focused on anticipating, detecting and eliminating online threats.
Retaining users means fostering a safe and positive online environment by prioritising safety by design.
External reviews can help to identify internal safety gaps that could be missed during product development.
Platforms are focused on catching threats they are familiar with. Working with external partners, like Crisp, can help identify unknown risks that are often overlooked.


Reflections
Michelle DeLaune, the President and CEO of NCMEC closed the virtual INHOPE Summit 2023 with valuable reflections. She celebrated the alignment seen at the conference in identifying current gaps, sharing case studies and discussing tactics for improvement. An essential takeaway was the need for embedded solutions. No department or role should operate in isolation. Michelle also stressed the value of incorporating external experts, particularly survivors, whose insights can be instrumental in shaping our policies and approaches.
"Convenings like these facilitate a safe environment for conversations that pave the road for incredible amounts of cooperation and meaningful change."- Michelle DeLaune, NCMEC


The 2023 INHOPE Summit provided a space for stakeholders to come together to address the current state of user safety, identify best practices and examine scalable solutions. The theme 'Partnering Product with Policy' invites us to reframe our mindset from "safety by experience" to "safety by design." Safety must become an integral part of product development, a core principle of every organisation. But to achieve this on a global scale, we need all stakeholders to work together - exchange expertise, share data, and develop collaborative solutions.


The Summit offers a space for open conversations and the opportunity for collaboration. You don't need to wait until the next annual Summit to be part of the discussion. If you want to get more involved, register for our events newsletter here, to never miss out on exciting things to come.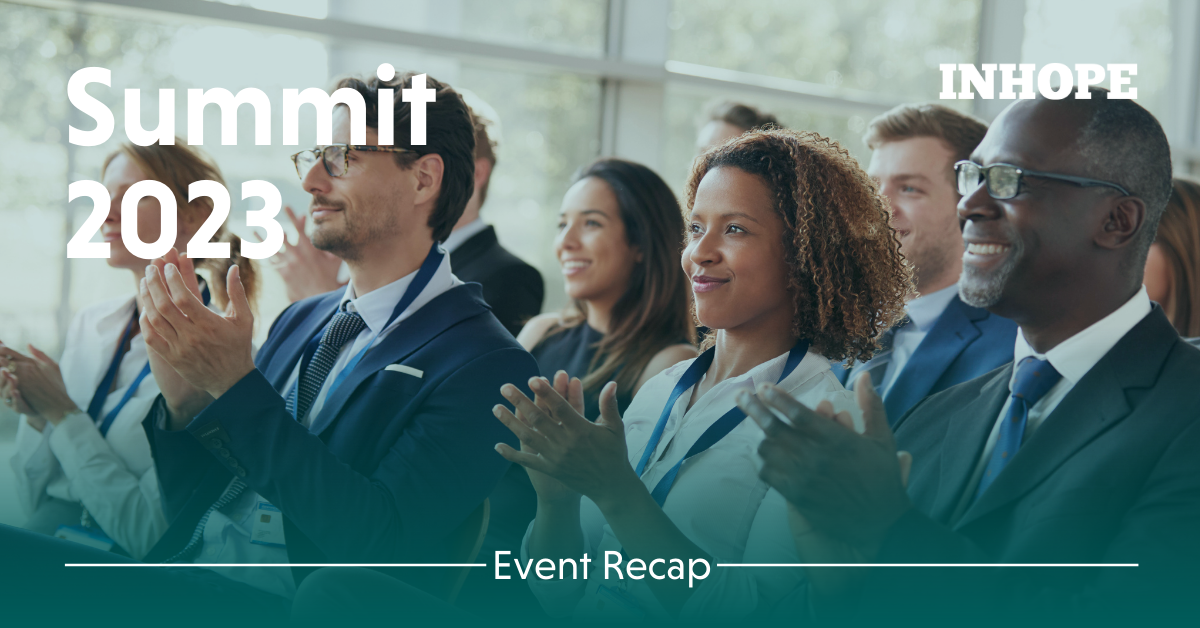 '

User safety is not merely a feature - It's a core element of product development, critical to creating a safe online environment, especially for young people.

'