Article
Industry News & Trends
INHOPE launches Annual Report 2021
Sustainable development was INHOPEs direction for 2021. After embracing the need for change created by COVID-19, we find ourselves concluding this year in a stronger position than where we started. From 2022, a wave of online safety and digital regulatory reform will reshape the roles and responsibilities of many stakeholders, from authorities to platforms and hotlines. With a new strategy that applies the core principles of People and Technology, we are prepared.
INHOPE's Impact a brief look at 2021
Our network grew to 50 hotlines on 6 continents with 200+ hotline analysts.
90 hotline analysts were trained by INHOPE via online tools.
51 people followed the online CORE trainings and 39 people followed the online Content Assessment and ICCAM trainings
72% of all illegal content URLs were removed from the internet within three days.
92% of all illegal content URLs were reported to hosting providers within three days.
928,278 content URLs of potentially illegal and harmful material depicting child sexual abuse and exploitation were exchanged on the INHOPE platform ICCAM (INHOPE's secure platform which is used by member hotlines to classify, collect, and exchange reports of CSAM with the network and Interpol)

"We refreshed our mission to not only support but enable the INHOPE hotlines in the rapid identification and removal of Child Sexual Abuse Material from the digital world, which is supported by the 4 new member hotlines we welcomed."- Jean-Christophe Le Toquin, INHOPE President

Trends and Statistics
A key topic of discussion in 2021 was self-generated content as INHOPE member hotlines saw a huge increase in reports of this nature. Self-generated content or self-generated child sexual abuse material (self-generated CSAM) is sexually explicit images or videos created, transmitted, or exchanged by minors under the age of 18.
76% of victims were depicted as pre-pubescent (aged 3-13) 2020. This increased to 81% in 2021, with pubescent (aged 14-17) representing 18% of victims. The increase in the number of reports in a combination of ages shows us the increase of self-generated material by children and the need for a global approach to tackle this trend
Unknown content indicates how many exchanged content URLs were new and required assessment by analysts. 82% of the total number of processed content URLs was unknown in 2021. This figure was 39% in 2020. And, 48% of the total number of processed content URLs was confirmed as illegal in the hosting country in 2021. This figure was 34% in 2020. These increases are representative of improved data collection and reporting processes.
Any child is vulnerable to sexual abuse. However, the data shows that girls remain at a much higher risk of sexual abuse than boys. Increasing from 93% of depicted victims in 2020 to 96% in 2021.
As in previous years, INHOPE hotlines continue to report that CSAM is mostly found on websites, file, and image hosts. In 2021 we saw a 17% decrease of CSAM found on websites (compared to 48% in 2020) and double the amount of CSAM found on file host sites (26% in 2021, compared to 13% in 2020).

"2021 was a year of achievement. The INHOPE network grew to 50 Hotlines, removed more CSAM faster than ever before and it delivered a new ambitious strategic plan mapping out where we are going in the years to come. This was achieved by the member Hotlines, the INHOPE Board and the secretariat team working together with a shared ambition and commitment to deliver on our vision of a digital world free of CSAM." – Denton Howard, Executive Director

Highlights of the Report
New project phases in the Better Internet for Kids programme, funded by the European Commission and AviaTor Project, funded by the European Union's Internal Security Fund. We also received a grant from Neo Philanthropy Foundation
for capacity building and network expansion activities focused on Latin America.
New strategic focus INHOPE developed its Strategy for 2022–2024 with active engagement and input from its
member hotlines.
Annual funding partnerships directly support INHOPE's work and we proudly welcomed TikTok, ActiveFence and Patreon as annual funding partners. They join Cloudflare, Microsoft, Facebook, Twitter, Google, Crisp, and Trend Micro in the fight against CSAM
INHOPE welcomed four new hotlines in 2021: four new provisional members to INHOPE: Fundación Pas (Te Protejo Mexico); SIEMPLE Japan; The Centre for Missing and Abused Children (CNZD) from Serbia and the Child Rights Centre Albania (CRCA) from Albania. In total, we have added seven members to the network from seven countries in 2021.
INHOPE signed a 4-year Framework Partnership Agreement with the Directorate General for Justice and Consumers of the European Commission for the Stronger Together project to further build capacities of internet hotlines

With a newly developed strategic outline for 2022, we look forward to continuing to grow the network and welcoming
more organisations to become INHOPE hotlines. We believe that every citizen in every country should be able to help remove online CSAM by reporting it. Get your copy of the 2021 Annual Report and learn more about INHOPE, what we have achieved and what we our vision for this future is.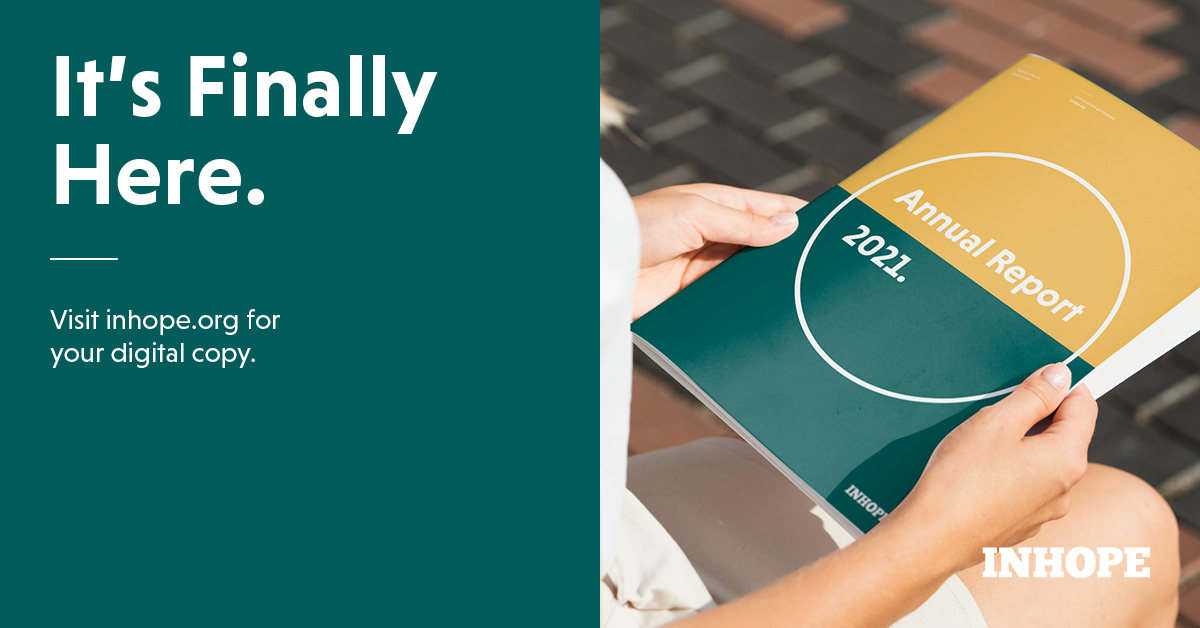 '

Read the full report here.

'