Article
Educational Articles
Events & Campaigns
Child Safety in Gaming: Addressing Online Safety amidst the Prevalence of Bullying and Abuse
In recent years, online gaming has experienced an unprecedented surge in popularity, driven by technological advancements and increased accessibility. With the arrival of smartphones, children now have greater opportunities to engage in online gaming. The immersive and interactive nature of these games attracts youth who seek social connections and thrilling experiences in virtual environments.


As the United States celebrates National Gaming Day, highlighting the positive impacts of gaming on individuals and communities, it is crucial to shed light on an important aspect of the gaming world: child safety. Online gaming offers exciting experiences for children and young people, but it can also expose them to various risks. The prevalence of bullying and sexual abuse in the online gaming environment, demands our attention and collective efforts to understand these challenges and protect the youth.


Bullying in Online Gaming
Online gaming platforms often become epicentres for bullying and harassment. Players may encounter individuals who engage in harmful behaviours such as verbal abuse, targeted harassment, exclusion and cyberbullying. For most children and teenagers, who are still developing their emotional intelligence, this may cause psychological distress, anxiety and low self-esteem. It is important to implement effective anti-bullying measures in gaming platforms. This may include implementing reporting systems in all online multiplayer games, which currently are seen only in the most popular ones, using moderation tools and strengthening community guidelines.


Sexual Abuse in Online Gaming
The gaming environment is more prone to online threats. Engaging with other users is common and easy in multi-player live games which have a chat feature. Gamers tend to form communities, share their experiences and nurture virtual friendships over mutual interest, even if they don't know any personal details about the other person, such as their age or real name. Unfortunately, the online gaming world has become a hotspot for bad actors who exploit children and teenagers. These people employ tactics such as grooming, where they establish trust and manipulate young players for their purposes. Another common form of sexual abuse is sextortion, which involves coercing children into sharing explicit content and subsequently using it as leverage for further exploitation. Raising awareness about these dangers, educating children and parents, and implementing strong reporting systems are crucial steps towards preventing and combatting sexual abuse in online gaming.


Promoting Child Safety Measures in Online Gaming
Several parties must work together and put out comprehensive plans to safeguard the security of young gamers. Here are some key measures to consider:


Parental Involvement and Education
Parents and guardians play a vital role in ensuring their children's safety in online gaming. Establishing clear boundaries and setting time limits can empower parents to protect their children from potential harm. Parents and carers may play together with their kids, watch them play or show interest in the games they like. It's important to have open communication with children. Making games part of everyday conversations can teach them about responsible gaming habits and identifying and reporting inappropriate behaviour. But unfortunately, not all kids and teenagers have constant support and monitoring from their parents or carers. Some of them also lack access to resources and educational material. Parents can help prevent or minimize potential online harm, but still, the possibility to do so might be limited. The gaming industry should do its part.


Game Developers' Responsibility
Game developers hold the responsibility to create a safe gaming environment for players, particularly children. Implementing age restrictions and content ratings can help parents make informed decisions about the games their children play. Developers should prioritize the development of effective moderation tools and reporting systems to address inappropriate behaviour and safeguard young players quickly.


Collaboration with Law Enforcement
Law enforcement agencies play a crucial role in addressing and preventing online safety issues. Collaboration between gaming platforms, developers, and law enforcement can ensure the prosecution of offenders. Strengthening legal frameworks, penalties, and cybersecurity measures are essential steps towards deterring and combating online violence, bullying, and sexual abuse.


National Gaming Day serves as a reminder of the excitement that gaming brings to millions of people. Especially for young players, it should be a space to develop new skills and have fun, not a space that could expose them to potential threats. Together, we can aim to protect children from violence, bullying and sexual abuse, and ensure their gaming experience is both enjoyable and secure.


If you are interested in learning more about practical safety tools that can improve and secure user experience in online games, you can access the GamerSafer resources here.


Safer Internet Day would not be possible without the support of the European Union. Funding is provided by the Digital Europe Programme (DIGITAL). Find out more about the European Commission's new European strategy for a better internet for kids (BIK+) on the EC website.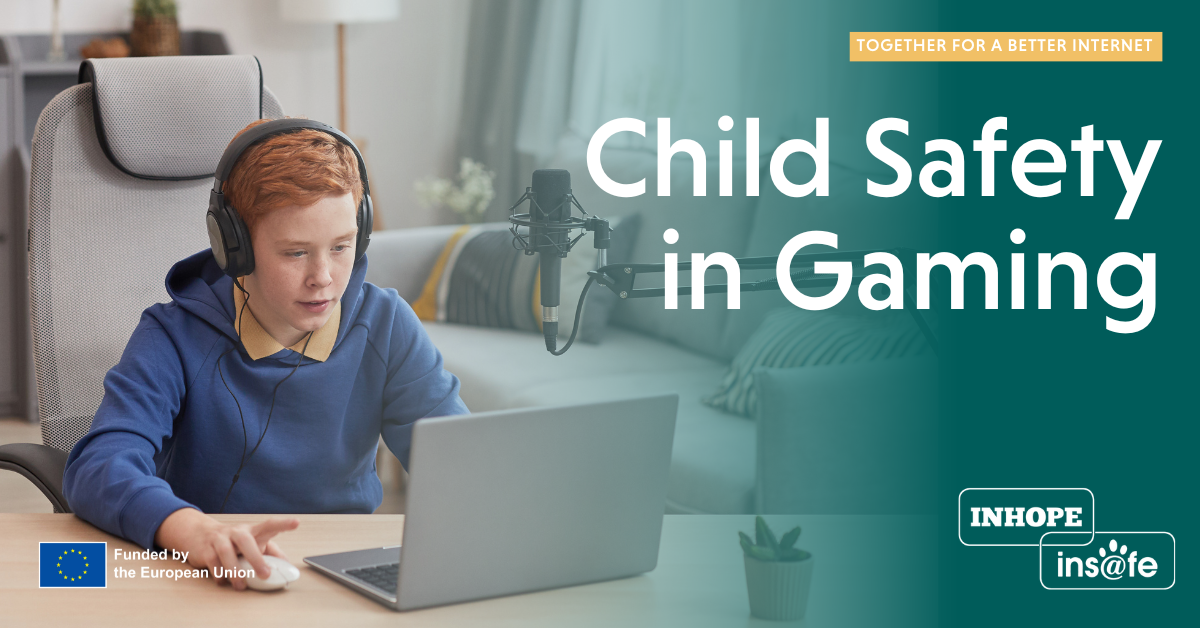 '

Raising awareness about these dangers, educating children and parents, and implementing strong reporting systems are crucial steps towards preventing and combatting sexual abuse in online gaming.

'