Article
Events & Campaigns
Proactive vs. Reactive hotline communication recap
The final webinar of the year 2022 hosted two Better Internet for Kids (BIK) Youth Ambassadors, Kathrin Morasch, and João Pedro Martins, who shared their evaluation of different communication approaches, spoke about best practices and the most common mistakes when creating message campaigns targeting young people.
The session, which was held under the umbrella of the European Year of Youth was kicked off by Sabrina Vorbau, who explained that youth participation has never been as important as it is today: "the discussions that are held today have an impact on the users of tomorrow" - Sabrina Vorbau, Project Manager at European Schoolnet. She introduced the new BIK Youth Strategy that focuses on digital empowerment and a safe digital experience for children but especially emphasises the importance of active youth participation.


Campaign Development
According to the Senior BIK Youth Ambassadors, child and youth consultation should be at the heart of developing a campaign targeting young people. João Pedro Martins emphasised that during campaign development it is important to segment the process into different parts and to reevaluate the procedure at every step of the way. Some messages will need to be personalised to fit different demographics, which is why it is useful to consult with people from your target audience. They can help to understand how certain content might need to be adapted and which media channels are the most appropriate to reach a specific group of people.
For campaigns to be effective they need to be inclusive and reach people who might not naturally be exposed to the issues of Children's Safety and combating Child Sexual Abuse Material (CSAM). In rural areas, for instance, CSAM is a much bigger taboo topic than it is in most urban environments, João explained. It is important to consider how these target groups vary from each other to create effective message campaigns.


The importance of proactive communication
When communicating with young people proactive communication is key: "When young people feel that they are self-organised on the topic you are talking about you can see much better outcomes" - Kathrin Morasch, BIK Youth Ambassador. João elaborated, that by addressing difficult situations before they happen, we can create a better social environment for children having to deal with challenging experiences. It is important to proactively reach out to young people by implementing valuable educational resources in their everyday lives, such as within their daily digital media experiences. These messages need to be meaningful and easily digestible for children and teenagers. "By doing this we create the curiosity for young people to be alert about certain topics" - João Pedro Martins, BIK Youth Ambassador.


Common communication mistakes
Kathrin Morasch, explained that a frequent mistake is trying to communicate too much in one message. For a campaign to be successful and targeted, it must be focused on one or two, easily digestible points instead of trying to address many topics at once. Additionally, both Ambassadors agreed, that the most common and critical mistake is not working with feedback loops and therefore missing important follow-up conversations about the campaign. It is important to openly communicate with stakeholders during every stage of the campaign, not only before and during but especially after to investigate potential setbacks, evaluate successes, and use these insights to develop improved approaches in the future.


Best Practices for a successful campaign
Involve your target audience in the campaign development process.
The campaign should follow an iterative process: create, test, and revise.
Develop inclusive message campaigns that reach people outside of your regular audience.
Quality over quantity: focus on developing really strong, proactive messages.
Always include a Call to Action.
Don't be afraid to be repetitive, a message needs to be communicated regularly for it to be internalised.
Not every campaign is going to be successful: don't be afraid to learn from your mistakes.


How do you keep the conversation going?
The topics of Child Sexual Abuse (CSA), CSAM, prevention, and reporting are sensitive and often difficult to talk about, which is why we must actively work on sustaining high engagement. "As we make the relevance of the topic more consistent throughout time and on different communication channels, we can drive young people's interest to be aware of difficult subjects" - João Pedro Martins, BIK Youth Ambassador. This can be achieved, for instance by working alongside social media platforms to generate advertised campaigns that raise awareness of how users can report harmful content. But it is also important to communicate to young people what exactly happens after they take action and what their report accomplishes. Facilitating a safe digital environment for children does not only mean providing appropriate digital education but ensuring direct, active youth involvement in every step of the process.


Are you creating campaigns targeted at young people and want to involve more youth in your development process? Reach out to Sabrina Vorbau to put this plan in motion at sabrina.vorbau@eun.org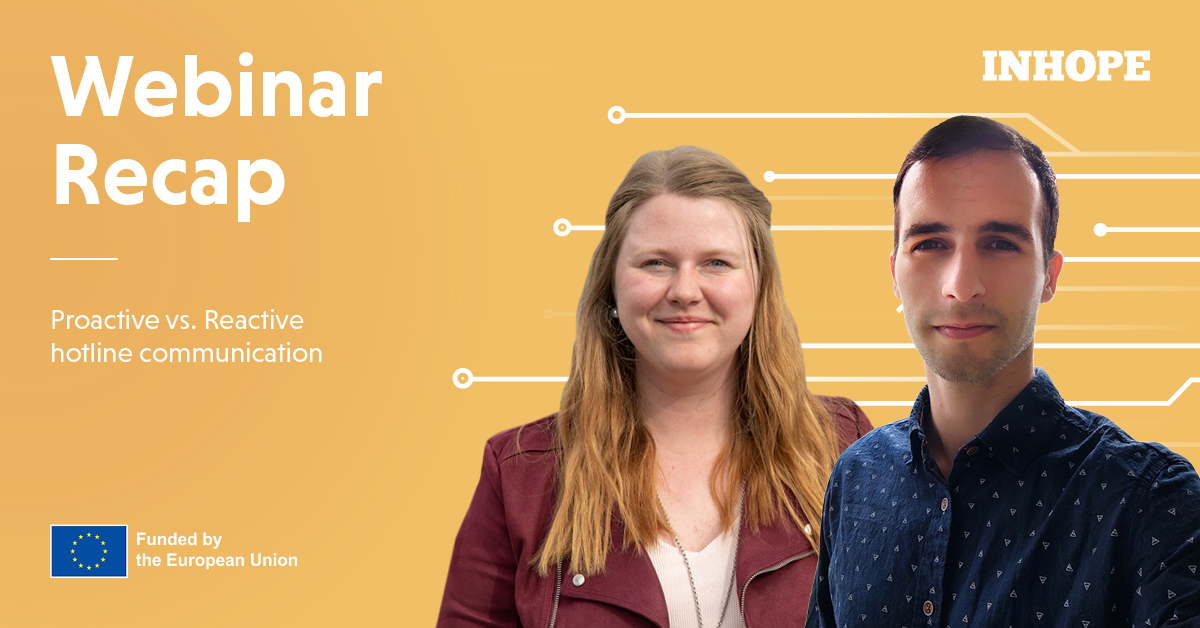 '

To involve more youth participation in your campaign development process reach out to sabrina.vorbau@eun.org

'