Article
Hotline & Network Updates
Preventing Child Sexual Abuse Webinar by Save the Children
Save the Children Denmark and Save the Children Finland are joining together to run and host the publication webinar of "Preventing Child Sexual Abuse: Support for Adolescents Sexually Attracted to Children – An Introductory Guidebook" on Thursday September 8th at 9AM – 10:15AM (CEST, UTC+2).
The guidebook is an introductory tool for professionals in contact with adolescents on how to prevent child sexual abuse by helping adolescents who are sexually attracted to children. The guidebook is a product of a research collaboration on child sexual abuse prevention between MSc, PhD-student Mikkel Rask Pedersen and Save the Children Denmark and Finland. The webinar will present the key contents of the guidebook and bring together professionals, researchers, and officials to discuss the topic.
Programme:
Note: Times in the programme are given in Central European Summer Time CEST (UTC+2). Finland time is 1 hours ahead of CEST and the webinar starts at 10AM in Finland. CEST is the same time as in Denmark.
9:00–9:20 Why are we doing this?
Per Frederiksen, Senior Project Leader and Psychologist, Save the Children Denmark
9:20–9:35 Guide to the guidebook
Mikkel Rask Pedersen, MSc PhD-student Aarhus University, Save the Children Denmark
9:35–9:50 Using the guidebook
Tanja Simola, Senior Advisor and Hotline Manager, Save the Children Finland
9:50–10:15 Q&A
The webinar is open for all professionals working with children and young people, and for professionals working with persons with a sexual interest in children. Also, police, other authorities, and decision-makers are warmly welcomed to join the webinar. The webinar language is English, there will be no interpretation. Register now to save your space, registration closes Monday 5th of September.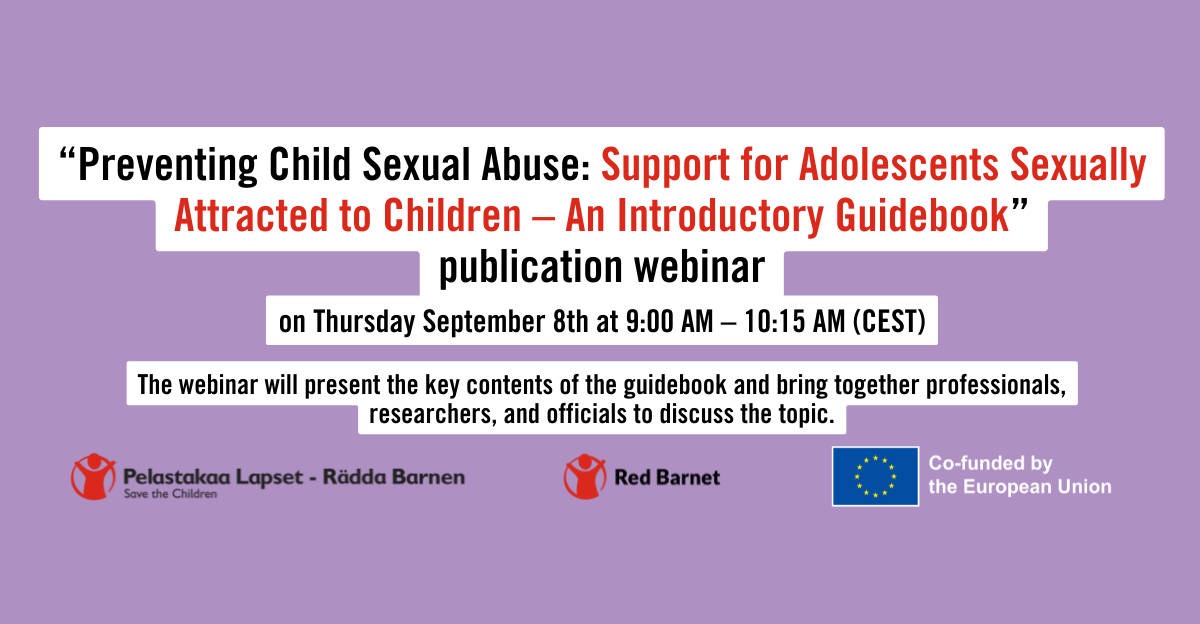 '

The webinar is open for all professionals working with children and young people, and for professionals working with persons with a sexual interest in children.

'