Article
Network Community Manager
INHOPE is the global network combatting online Child Sexual Abuse Material (CSAM). The network consists of
52 hotlines in 48 countries that provide the public with a way to anonymously report illegal content online with a
focus on CSAM. The mission of INHOPE is to support the network of hotlines in combatting online Child Sexual
Abuse Material. We are a motivated and committed team and if you want to make a difference, come and talk to
us.
The role
As INHOPE's Community Manager you act as the liaison between our organisation and our network of
members. This position will be responsible for all aspects of membership, from serving as the first point of
contact for hotline related questions to organizing events. You will also be tasked with maintaining records,
ensuring membership compliance, all while focusing on supporting and growing the capacity of our
membership community. You know what matters to members and represent their interests within INHOPE


Responsibilities
Handle all questions, information requests, and complaints regarding membership.
Manage membership portal and various network communication channels.
Process membership applications including onboarding of new members.
Maintain and update membership portal including collecting data, tracking membership statistics, and
preparing reports.
Assist with member communication activities as well as preparing membership marketing materials.
Work closely with Network Expansion team and Project team to coordinate activities and communicate
important information to and from the membership.
Coordinate with the accounting department to track membership revenue.
Organise and coordinate the logistics for all events and activities for members including the Hotline
Training Meeting.
Lead and organise Quality Assurance Audits of hotline members; this includes creating internal
controls, conducting the audit, follow-up on all findings, and stay up to date on internal standards.
Manage and organise Peer-to-Peer exchange visits between hotline members.
Manage the Excellent Hotline Services (EHS) Task group.
Foster communication between the board and membership


Profile/Requirements
3-5 years of experience in a similar role
Bachelor's degree in a relevant field
Background in compliance or experience in the field of compliance
Fluent English speaker, other languages are an advantage
Experience with project management and/or implementation in the NGO sector
Strong team player, flexible, and able to involve key parties quickly and effectively
Responsible and self-reliant
Strong written and verbal communication skills
Experience with giving presentations in front of large audiences.
Experience in event planning/management
Able to travel several times per year as part of this role
Customer service mentality and empathetic approach to solving problems
Problem solver with a proactive approach
Desirable experience / attributes
Experience within a membership-based organisation
Knowledge and understanding of trust and safety in the digital world
Experience in compliance
Experience working in a helpline or hotline organisation


Benefits
A flexible, inspiring work environment that values teamwork, collaboration, learning and innovation.
Working on a project team from around the world with various levels of experience.
Friendly and respectful organisational culture.
Opportunity to work on an important cause.
Opportunity to develop skillsets.
Training and coaching budget available.
Additional benefits: INHOPE offers 25 days leave per year (full time positions), a pension contribution of 6.5% and 8% holiday pay.
Conditions
Applicants are preferably based in Amsterdam and are either EU citizens or residents that hold a valid work
permit.


How to apply and what to expect in our recruitment process
Let's do great things together! Please complete the Google form here by 31 August at the latest. Upon a review of your application and a potential match with our
position, we will invite you to a series of interviews (virtually and in person).


Language: The business language of INHOPE is English.
Location: INHOPE's headquarters are located in Amsterdam.
Position: Network Community Manager
Reporting to: Chief Operating Officer (interim Head of Operations)
Contract: Full-time
Hours: 37,5 hrs/week
Start date: as soon as possible
Salary range: 3,200 – 3,700 gross monthly
Interested? https://forms.gle/DSSWKZkW21QpjLcJ8 Apply Now*
Note: exposure to child sexual abuse material (CSAM) is not a planned part of this role but there is a potential that you may be indirectly exposed to CSAM at some point. INHOPE has a mandatory staff welfare policy governing this area.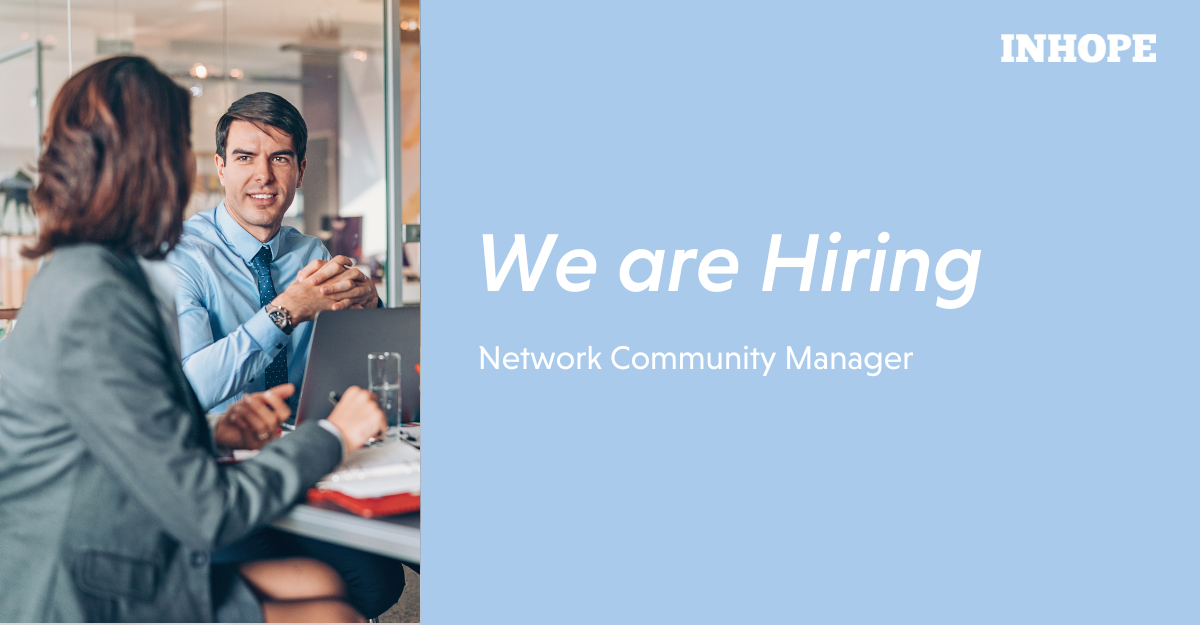 '

As INHOPE's Community Manager you act as the liaison between our organisation and our network of
members.

'