Article
Marketing Associate - New Position
INHOPE is the global network combatting online Child Sexual Abuse Material (CSAM). The mission of INHOPE is to support the network of hotlines in combatting online Child Sexual Abuse Material. We are looking for someone who shares our mission. Are you dynamic, resourceful and ready to make a difference? As INHOPE's Marketing Associate you will be a pragmatic individual, who loves writing articles, has excellent time management skills, and supports the overall Marketing Strategy.

Responsibilities
Content creation
Social Media scheduling
Newsletters
Email Marketing
Webinars
Event support
Internal portal/compliance

Requirements
Minimum of one year of experience in a similar role
Bachelor's degree in a relevant field
Fluent/native English speaker
Experience with Mailchimp: newsletter creating and sequencing/email marketing
Experience using social media scheduling tool Plannable or similar
Experience with CMS systems
Experience with Office 365
Strong team player, flexible, and able to involve key parties quickly and effectively
Researching and verifying credible sources
Time management: multiple deadlines for multiple disciplines will overlap

Benefits
Remote working
Friendly and respectful organisational cultural
Opportunity to work on an important cause
Opportunity to develop skillset
A flexible, inspiring work environment that values teamwork, collaboration, learning and innovation

How to apply and what to expect
Let's do great things together! Apply via the link below. For questions, please contact our team at communications@inhope.org. Upon a review of your application and a potential match with our position, we will invite you to a series of interviews (virtually). Applicants must be based in Amsterdam and be either EU citizens or residents that hold a valid work permit.

Employment Type: Full-time
Start date: July 2021.
Interested? Apply Now.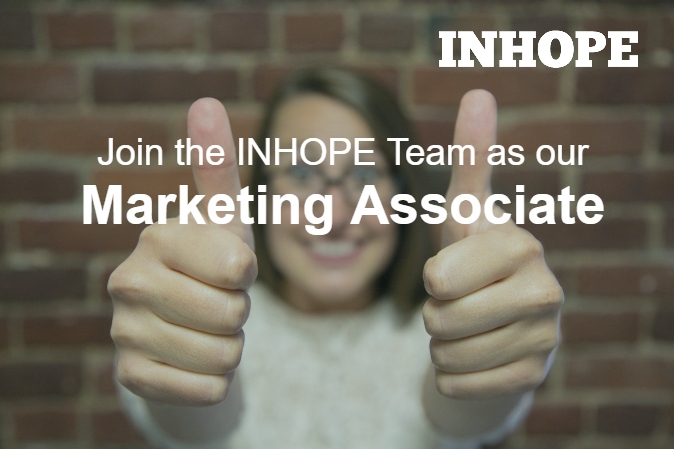 '

Applicants must be based in Amsterdam and be either EU citizens or residents that hold a valid work permit.

Interested? Apply Now.

'