Article
Events & Campaigns
Summit Speakers on Day 2
Once again we welcome experts from around the world to participate in the INHOPE Summit 2023. Our first hybrid conference will run over two days. The second day of the INHOPE Summit will be an in-person event for industry partners that focusses on blending the discussion across product, policy and trust and safety teams.
Get to know the organisations and speakers from Day 2 which will be in-person only.

Speaker Biographies
Charlotte van Lanschot, INHOPE
Charlotte van Lanschot is an innovative brand marketeer, skilled in B2C and B2B marketing, specializing in media/design and direct/digital communications. Fueled by her practical Film production degree, she is deeply passionate about storytelling. At Wolters Kluwer, she drove the Global Platform Organization marketing plan and ran impactful internal campaigns. Joining Tytho, she excelled in gathering analytical insights to optimise activities and coordinate international events. Her expertise in digital communications led her to Life Fitness, where she elevated EMEA brand awareness through thought leadership and segment marketing. In 2019, she joined the global non-profit 'INHOPE,' showcasing creativity, innovation, and thought-provoking communication.

Emily Cashman Kirstein
Emily leads child safety public policy at Google, working to ensure that children have safer and more enriching online experiences. Before joining Google, she led the policy team at Thorn, a tech-focused nonprofit committed to ending online child sexual abuse, establishing the organisation as a sought-after policy partner and thought leader both in the United States and globally. Previously, she served for seven years in multiple roles as a key aide to U.S Senator Jeanne Shaheen and worked as senior staff on several political campaigns in her home state of New Hampshire. Emily is an alum of the College of the Holy Cross and holds a master's in international relations from the Universidad Autónoma de Madrid.

Jacqueline Beauchere, Snap
Jacqueline Beauchere is the Global Head of Platform Safety at Snap Inc. She represents the technology industry on the WeProtect Global Alliance's international Policy Board, serves as Snap's representative on both INHOPE's Advisory Board and the Funding Council of the Internet Watch Foundation, and is a member of Power of Zero's Steering Committee. Prior to Snap, she spent nearly 22 years at Microsoft, serving as that company's and industry's first Chief Online Safety Officer.

Kim Scardino, Apple
Kim Scardino oversees Apple's engagements with external organizations on topics related to Trust and Safety. She's been at Apple for over nine years and was previously on the Education team handling policy and external engagement. Prior to joining Apple, Kim had roles at the Federal Communications Commission, the Family Online Safety Institute, Comcast and MCI. She has her law degree from Georgetown University Law Center and Bachelor of Arts in Political Science from American University.

Fallon McNulty, CyberTipline (NCMEC)
Fallon McNulty is the Director of NCMEC's CyberTipline and is responsible for overseeing its day-to-day operations with a focus on response to reports received from electronic service providers. Ms McNulty liaises with external law enforcement and industry stakeholders and also focuses on collaborative report response strategies and shaping policy based on emerging abuse trends.

Samantha Woolfe, INHOPE
Samantha is the Partnerships and Expansion Lead at INHOPE. Expanding the network of hotlines hand-in-hand with INHOPE's partners in industry, law enforcement, other civil society organisations and global institutions, in 2020 she has sometimes been at meetings on four continents in one week. At INHOPE for eight years and fighting for the online safety and protection of children for 15, she has worked at Insafe, EUN, ICMEC, advised various Ministries of Justice and FOSI, promoting digital citizenship and the protection of children from potentially harmful material online, prior to which she was a lobbyist for Political Intelligence's London office.

Julie Dawson, Yoti
Julie leads regulatory and government relations for Yoti's digital identity platform; developing policy approaches for fraud prevention and safeguarding, and liaising with national and sectoral trust frameworks, in conjunction with Yoti's internal and external ethics boards.
Yoti is an identity-checking system that allows organisations to verify who people are, online and in person. Yoti offers Identity verification, Age verification, E-signatures and Authentication.

Leonardo Real, Tether
Leonardo Real is the Chief Compliance Officer for Tether. In this role, Leonardo is tasked with building, maintaining and overseeing Tether's compliance program, including the company's customer identification program, transaction monitoring and investigations, regulatory reporting, risk assessment and sanctions program. Leonardo is also the Chair of the ACAMS Today Europe editorial board.

Joseph Mari, Scotiabank
Joseph Mari, Director at Scotiabank's Financial Intelligence Unit (FIU), oversees investigatory operations for capital markets, major investigations, and transaction monitoring. Mr. Mari also serves as the Director of External Partnerships in the Financial Crimes Risk Management Division forging strategic alliances to advance sustainability initiatives. Mr. Mari leads industry-wide anti-sex trafficking and child exploitation partnerships, collaborating with esteemed organizations like the US State Department and the Vatican. Recipient of a 2019 Community Member Award, he's recognized as a subject matter expert by OSCE and featured in Forbes, CBC, and Coindesk.

Erin Plante, Chainalysis
Erin Plante is the VP of Investigations at Chainalysis, where she leads the efforts of investigations globally alongside our public and private sector customers. Prior to joining Chainalysis, Erin spent 17 years investigating cybercrimes, with over a decade based between China and the Middle East focused on nation state threat actors in those regions. Erin is a Certified Ethical Hacker, a Certified Anti Money Laundering Specialist, and a Certified Fraud Examiner.

Denton Howard, INHOPE
Denton is the Executive Director at INHOPE. He has worked with the INHOPE network since 2005 in all aspects of hotline operations including network development, technology development, and outreach and training. By his own confession, Denton is a hotline evangelist with a mission to combat online Child Sexual Abuse. He has a BA in Business & Marketing from the University of South Wales, and a Postgrad in Computer Science from the National University of Ireland, Maynooth. 
Will you Talk About It?
We all have a role to play, do you know yours? Learn more about the INHOPE Summit on September 19 and 20 to talk about the importance of education, communication, and the online safety of our digital citizens, especially children, across all industries. Interested in learning more about the Speakers from Day 1? Click here to see who will be speaking at hybrid day (online and in-person).
Register for Day 1 (attend virtually) - here
Register for Day 1 and Day 2 (attend in-person) - here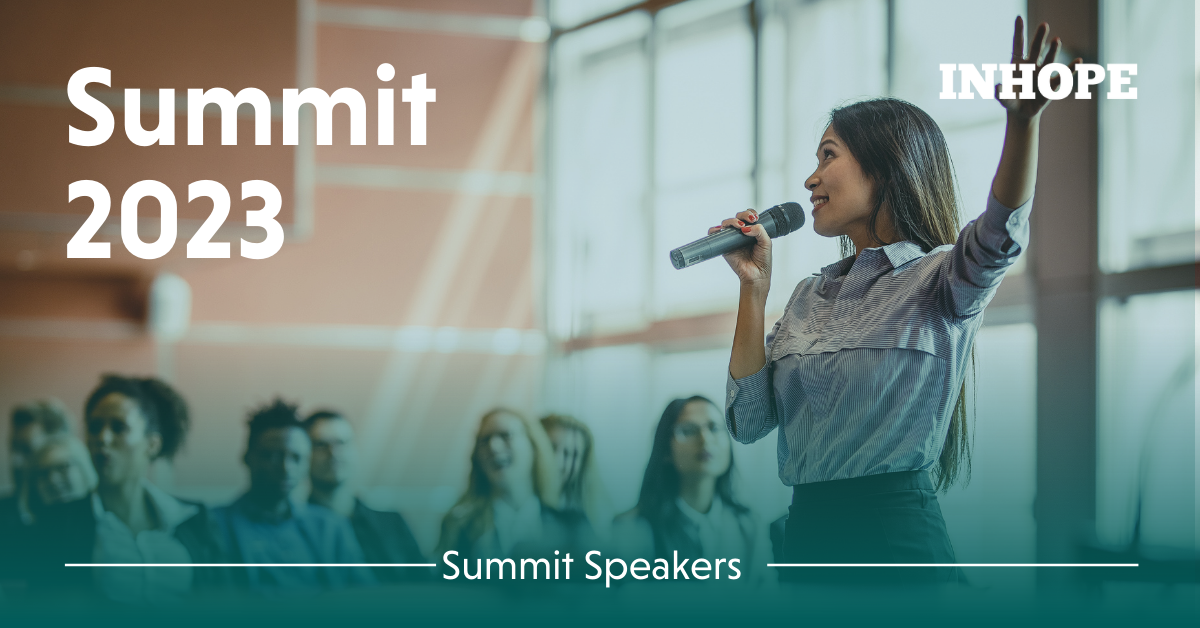 '

Get to know the speakers from Day 2 which will be in-person only.

'