Article
Events & Campaigns
INHOPE Summit 2022 Kickoff
We are thrilled to announce that the fifth INHOPE Summit will take place on September 20-21. The theme of the hybrid event is "Talk About It". Learn more about the event here.

Talk About It
Acts of sexual abuse toward children are heinous, and their consequences are often devastating. Raising awareness of child sexual abuse material (CSAM) is challenging because the topic disturbs people or unbalances them because they cannot believe that people record, distribute and consume CSAM. This must change.
Children who are abused and exploited have had their voices taken away. When we stay quiet we perpetuate fear and shame and therefore we must talk about it, that is the only way we can tackle the issues, drive engagement and build openness that supports vital prevention initiatives.
Join us to talk about the importance of education, communication, and the online safety of our digital citizens, especially children, across all industries. We all have a role to play, do you know yours?
Will you be there?
In order to protect the rights of children and tackle Child Sexual Abuse Material (CSAM) on a global scale, we are seeking all relevant stakeholders to join the discussions. Register, build connections, grow collaboration and unite our efforts. Find out more about the event and FAQs, or get access to the latest agenda here.
Day 1 (hybrid), September 20, 9:00 EST - 15:30 EST (15:00 CEST - 21:30 CEST)
Hear from industry leaders including the Tech Coalition, NCMEC, Michigan State University, Meta, Roblox, Binance, Marsh Law and The eSafety Commissioner.
Day 2 (in-person only), September 21, 10:00 EST - 14:45 EST
Held at Amazon Web Services' office in Washington D.C. this is an opportunity for discussion with breakout rooms, a panel discussion and closing industry presentation.
Should I attend both days?
Online we welcome Trust and Safety Professionals, Content moderators, Child Protection NGOs, Technology companies, Law Enforcement, Hotlines, Policymakers, Government and stakeholders working in the field of online child protection.
In-person is for industry partners as Day 2 is about sharing existing technologies and building connections between industry partners. Numbers are limited and all applicants are subject to approval.
When should I sign-up?
In-person registrations are limited and must be approved prior to September 9th (this is a firm cutoff for security purposes) and online registrations must be approved prior to September 16th (unapproved registrants will not be able to join). In-person registrations are limited to one per organisation and all registrants are subject to approval.
Should you and your organisation be part of the discussion? Learn more and register here.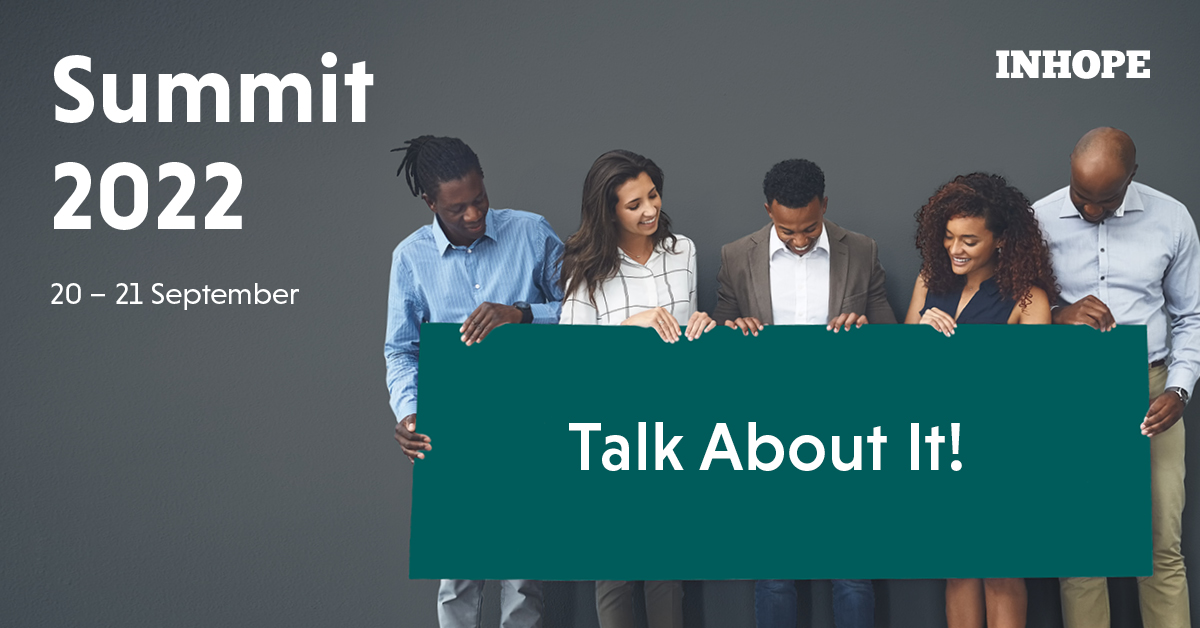 '

Should you and your organisation be part of the discussion? Sign up to the INHOPE Summit 2022 here.

Registration End Date:
In-person September 9
Online September 16

In-person registrations are limited to one per organisation and all registrants are subject to approval.

'